Hjärtebra Center

A Hjärtebra Center is a totally new business that provides many different customer categories a unique, safe and "right-in-time" training.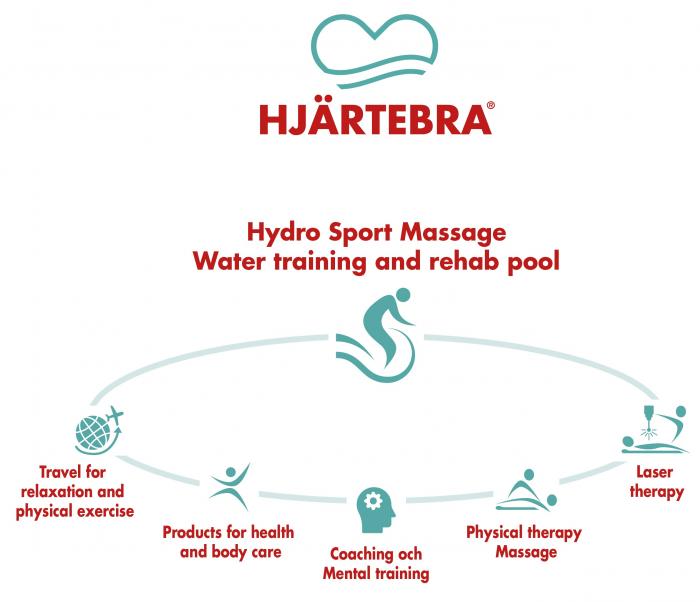 Hydro Sport Massage – Water training and rehab pool
The heart of a Hjärtebra Center is the Hydro Sport Massage-Water training and Rehab Pool.
The pool allows for a light and relaxing, but incredibly efficient cycling training in warm water supported by the muscle massaging and upward pressure effect of the specially oriented water jets.This accelerates blood circulation and greatly facilitates the work of the heart.

The massage also results in an equally effective lymph drainage of swollen legs, thighs, sternum and stomach.
Several scientific studies have clearly demonstrated the tool's doubled effect on the condition.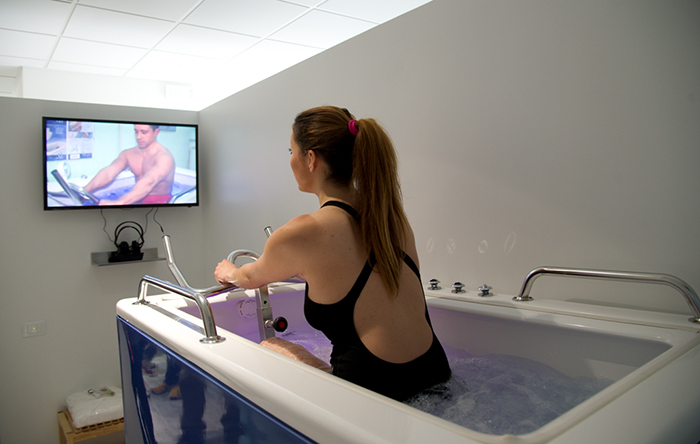 It has long been known that fitness training in water gives very good results.
The hot water massage doubles the efficiency.
When using Hydro Sport Massage-Water training and rehab pool, half the body is immersed in water and weighs less, while the other half is in normal condition. This facilitates blood and lymph circulation which is then furthermore amplified by the intensive hot water massage. The pool provides, after a few weeks of continuous exercise, immediate effects on the cardiovascular system, increases legs and body drainage and provides a sense of general wellness through improved health.
The reaserches have also found that such training, for odinary exercisers, qiuckly gives very good results on fitness.
Even athletes can use Hydro Sport Massage-Water training and rehab pool as a recovery training especially in the sports where athletes must perform often and at hard intervals.
Hydro Sport Massage-Water training and rehab pool is a self-supporting device made of fiberglass which is placed on the floor. Inside there is a stainless steel hydrocycle, which is replaceable and water resistant.
In addition, there is a hydromassage system equipped with 22 jet jets and a built-in ozone therapy system.
Hydro Sport Massage-Water training and rehab pool is patented.
Examples of layout with several Hydro Sport Massage- Water training and rehab Pool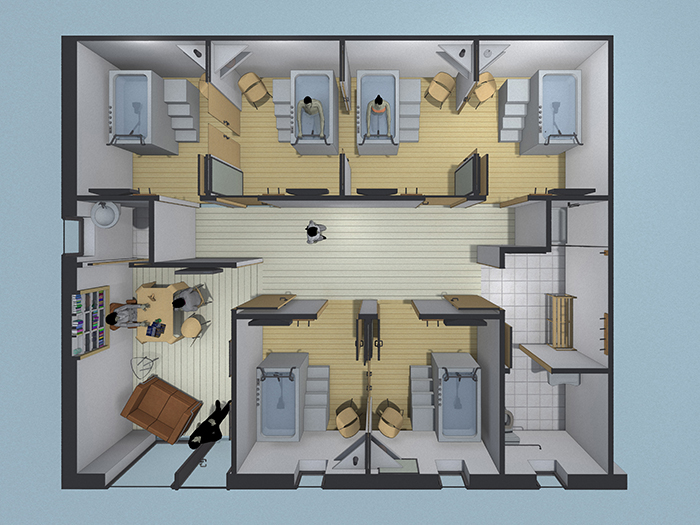 Customer categories

Private individuals of all ages which
- seeking a stressful, less intensive, yet effective form of exercise
which does not stress the knees, joints and back
- have a health problem with swollen legs
- have obesity problems
- wants to integrate posttraumatic habilitation
- are athletes and "weekend warrior"and need recovery training
- etc.
Employees and members of organizations
Staff recovery for municipalities, county councils, companies, organizations,
government agencies, sports clubs, etc.
Health effects
Cardiovascular disease is one of today's major health risks, genom
Hydro Sport Massage- Water training and rehab pool, both young and senior citizen can reduce the risks.

After just eight weeks of regular exercise, the test subjects, in a scientific study, were able to
shows the following effects:
- Blood circulation is three times better
- Lymph circulation increases through drainage that occurs during exercise, which results in increased
urination and thus elimination of toxins from the body via the kidneys
- Quick effect against swollen legs
- Better fitness and muscles become softer
- Incineration of about 400 calories per hour
- Tighter skins and reduced abdominal fat
- Prevent and prevent so-called orange skin and cellulite
- Excellent as recovery training for elite athletics
- Avstressfull and relaxing that gives a strong sense of well-being after use
- Stimulates the nervous system and has a beneficial neurological effect
- Gentle cardio training for the knees, joints and back